Menopause comes with some of its pros and cons. While you will be happy that there's no more PMS, you might experience some of its cons. Let's have a look at how it can affect your hair and skin.  
As soon as menopause starts, your estrogen level declines. That's the culprit to blame for all these unwanted symptoms of menopause. As estrogen help with water retention, it makes your skin look plump and youthful. It is also responsible for promoting scalp hair growth. So in menopause, when estrogen level declines, all of its functions are lost. As a result, you will observe dry, sagging skin with general hair loss.
Menopause hits the body differently. It's like your body starts aging faster. With the onset of menopause, it is normal to observe hair thinning and bald patches. You might also notice reduced body hair but increased facial hair. Also, your wrinkles and fine lines will be more prominent as collagen production is decreased. You will also observe age spots. With menopause, you will notice that your skin bruises easily and takes a long time for healing; this is because your skin is thinner now than before. 
It is entirely normal and natural to experience these changes with your age and menopause. So don't panic, you just need to take a little more care of your health and skin now. Eat healthy food, opt for facial massages, never forget your moisturizer and sunscreen, and you will enjoy your graceful skin.   
Also Read: Which One Is Better: Facial Serums or Oils?
For more Skincare news and Beauty latest updates please Like and Follow our Facebook Page and Instagram account…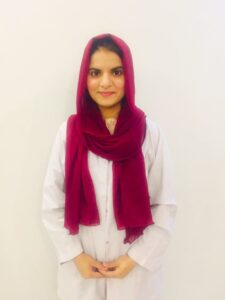 About the Author: Dr. Iqra Mubashar is a registered Pharmacist originally from Pakistan, Lahore. She has earned her pharmacy degree from the University of veterinary and animal sciences, Lahore. She has completed her internship as a trainee from Children hospital, Lahore. She has completed her research work in clinical pharmacy and pharmaceutics. She has worked as a healthcare documentation head in Al-Qasim enterprises, Islamabad. She has specialized in prescription handling, drugs information, literature research, patient counseling and pharmaceutical care plans. Her research work on coronavirus is under publication.