Excessive body hair is one of the stubborn symptoms of hormonal imbalance. It is said that spearmint tea helps with it. Let's find out if it's true.  
Excessive facial and body hair are referred to as hirsutism. This usually happens with hormonal imbalance disorders such as PCOS. Spearmint tea is often said to reduce hirsutism. But there isn't enough scientific data to give a solid base to this statement.
We need to know that the primary cause of hirsutism is high androgen levels, primarily a male hormone, i.e. testosterone. One study was carried out for 5 days only, in which women with hirsutism consumed two cups of spearmint tea daily. After five days, their androgen levels were lower than before. It proves its efficacy but study duration is very short, and further studies are required in this area.   
Though it lacks clinical data, it is observed that spearmint tea has anti-androgenic activity. It lowers the androgen levels in the body and helps to balance hormonal disorders, i.e. PCOS. It also decreases ovarian cysts in PCOS. 
It is generally safe to consume, so you can use it if you want. Some people might be allergic to it, so they might experience symptoms like diarrhea, etc. If you experience any such symptom, stop consuming it. If you have any other health condition, it is better to consult your physician first.
Also Read: 5 Amazing Benefits of Applying Argan Oil on Your Face
For more Skincare news and Beauty latest updates please Like and Follow our Facebook Page and Instagram account…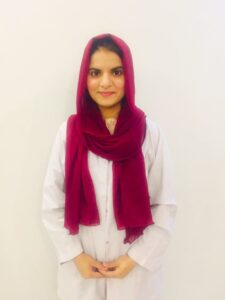 About the Author: Dr. Iqra Mubashar is a registered Pharmacist originally from Pakistan, Lahore. She has earned her pharmacy degree from the University of veterinary and animal sciences, Lahore. She has completed her internship as a trainee from Children hospital, Lahore. She has completed her research work in clinical pharmacy and pharmaceutics. She has worked as a healthcare documentation head in Al-Qasim enterprises, Islamabad. She has specialized in prescription handling, drugs information, literature research, patient counseling and pharmaceutical care plans. Her research work on coronavirus is under publication.