Either you must have seen someone, or you might have experienced it yourself that some women have more and thicker facial and body hair than others. So let's dig into why some are hairier.  
Naturally, all women have facial and body hair. But they are pretty fine and light in color. That's why they are referred to as peach fuzz. But some women experience more body hair thicker in texture. This is called hirsutism. Hirsutism is mainly a male pattern of hair growth because they are mainly present where men are supposed to have hair. Like upper lips, chin, side-whiskers, or overall body hair.  
This isn't simple. Hirsutism occurs because of an underlying cause. Most commonly, it happens because of higher levels of androgens in the body. Females do produce androgens but in a low amount. Higher amounts of androgens are produced because of certain medical conditions like PCOS (polycystic ovarian syndrome), adrenal gland disorder, etc. It can also occur because of certain medications like androgenetic anabolic steroids, testosterone, etc.
If you are experiencing excessive facial and body hair or observe a sudden change in your body hair texture, it is better to see a physician and get diagnosed if you have any underlying condition. So that it can be appropriately treated. Treating hirsutism alone isn't enough; eliminating the cause is essential.   
Also Read: Does Spearmint Tea Work for Hirsutism?
For more Skincare news and Beauty latest updates please Like and Follow our Facebook Page and Instagram account…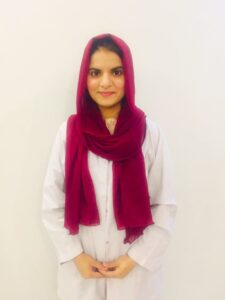 About the Author: Dr. Iqra Mubashar is a registered Pharmacist originally from Pakistan, Lahore. She has earned her pharmacy degree from the University of veterinary and animal sciences, Lahore. She has completed her internship as a trainee from Children hospital, Lahore. She has completed her research work in clinical pharmacy and pharmaceutics. She has worked as a healthcare documentation head in Al-Qasim enterprises, Islamabad. She has specialized in prescription handling, drugs information, literature research, patient counseling and pharmaceutical care plans. Her research work on coronavirus is under publication.