You might have heard of the word eczema or atopic dermatitis. But do you know how it is different from common irritation? Keep reading to learn more about it.  
Eczema is also known as atopic dermatitis. It is a chronic skin condition with periodic flare-ups. It involves dry, itchy, and inflamed patches of skin. A red rash and irritated skin are observed. It is not contagious, but it can be a painful and irritating experience. 
It is common in babies and children but can also occur in teens and adults . It can occur anywhere but commonly seen on cheeks, scalp, arms, etc.It happens because the immune system becomes overactive over a specific trigger. On scratching, irritation increases and can cause inflammation or even infection. 
It can be triggered by anything as triggers vary from person to person. There is no cure for eczema. Self-care measures and treatment can relieve itching and irritation. The easiest way to avoid eczema flare-up is to identify your trigger and avoid that. Avoid scratchy clothes like wool, harsh soaps, and detergents. Moisturize your skin regularly. Avoid hot baths, take short but warm baths and pat dry your skin.
If you experience a flare-up, it is better to get diagnosed by a dermatologist. You should consult a pharmacist before choosing skincare and beauty products so you can avoid possible triggers.
Also Read: 5 Amazing Benefits of Applying Argan Oil on Your Face
For more Skincare news and Beauty latest updates please Like and Follow our Facebook Page and Instagram account…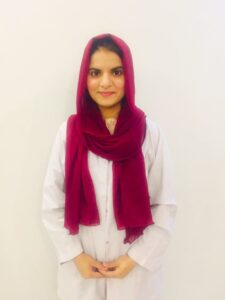 About the Author: Dr. Iqra Mubashar is a registered Pharmacist originally from Pakistan, Lahore. She has earned her pharmacy degree from the University of veterinary and animal sciences, Lahore. She has completed her internship as a trainee from Children hospital, Lahore. She has completed her research work in clinical pharmacy and pharmaceutics. She has worked as a healthcare documentation head in Al-Qasim enterprises, Islamabad. She has specialized in prescription handling, drugs information, literature research, patient counseling and pharmaceutical care plans. Her research work on coronavirus is under publication.