Urea is not a new ingredient. It has been used in multiple beauty products but more profoundly in moisturizers. Let's find out how it works for our skin.  
Urea is an organic compound that is used in the skincare industry for treating dry and rough skin. It is perfect for eczema, psoriasis, callus, etc. For cosmetics products, man-made urea is used.  Urea has two benefits:
Moisturizer:
It moisturizes and softens the skin. It is humectant in nature and keeps skin hydrated. For moisturization purposes, it is used in a concentration of less than 5%. 
Exfoliation:
Urea is known to be a keratolytic agent. It dissolves the keratin protein in the uppermost layer of the skin, promoting the falling off of dead skin cells and exposing new cells underneath. So urea is commonly available in formulas for exfoliation. For this purpose, it is used in concentrations between 10-20%.  
Urea is popular because of its safety, effectiveness and affordability. It is also available in medicated products. It is generally safe for every skin type unless someone is allergic to it. Some rare side effects i.e. itching, stinging or burning sensation can occur.    
Also Read: Tips to Heal Your Cracked Heels
For more Skincare news and Beauty latest updates please Like and Follow our Facebook Page and Instagram account…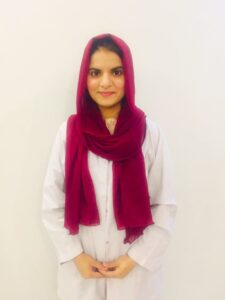 About the Author: Dr. Iqra Mubashar is a registered Pharmacist originally from Pakistan, Lahore. She has earned her pharmacy degree from the University of veterinary and animal sciences, Lahore. She has completed her internship as a trainee from Children hospital, Lahore. She has completed her research work in clinical pharmacy and pharmaceutics. She has worked as a healthcare documentation head in Al-Qasim enterprises, Islamabad. She has specialized in prescription handling, drugs information, literature research, patient counseling and pharmaceutical care plans. Her research work on coronavirus is under publication.