Have you come across the products mentioning tranexamic acid in its composition? Are you curious about it? Keep reading to know more about this beauty ingredient and why you should add it to your daily regime.
Tranexamic acid is a synthetic product of lysine, an amino acid. Medically, it is used to treat excessive bleeding in females, but recently its benefits for skin, mainly skin discoloration, have been found. 
It is found to be effective in treating discoloration and melasma. It helps to decrease acne scars and age spots and brightens the skin. It acts as an anti-inflammatory agent and helps to clear dark spots and redness.  
It is available in the form of toner, serum, moisturizing lotion, or creams. It is often used in combination with many other skin brightening agents like vitamin C, kojic acid, niacinamide, hyaluronic acid, retinol, and SPF. 
Tranexamic Acid is Suitable for All Skin Types:
It is safe for all skin types and can be used daily. It is an effective skin lightening and anti aging agent but does not exfoliate the skin like other acids. It's gentle and can be paired up with other acids but try not to use too many acids simultaneously. 
Note:
It is advised to consult your dermatologist or a pharmacist if you want to add it to your daily regime. And don't forget to do a patch test before applying it to your face.
Also Read: Tips on how to prepare your skin for summer
For more Skincare news and Beauty latest updates please Like and Follow our Facebook Page and Instagram account…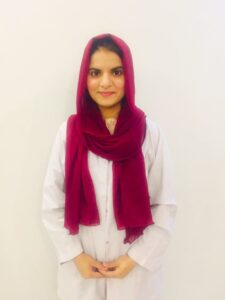 Dr. Iqra Mubashar is a registered Pharmacist originally from Pakistan, Lahore. She has earned her pharmacy degree from the University of veterinary and animal sciences, Lahore. She has completed her internship as a trainee from Children hospital, Lahore. She has completed her research work in clinical pharmacy and pharmaceutics. She has worked as a healthcare documentation head in Al-Qasim enterprises, Islamabad. She has specialized in prescription handling, drugs information, literature research, patient counseling and pharmaceutical care plans. Her research work on coronavirus is under publication.