Turmeric is derived from the plant Curcuma zedoaria native to Southeast Asia. Eastern culture is using turmeric for hundreds of years to enhance their beauty. An ingredient called curcumin present in turmeric gives it a yellow appearance. It makes it a fantastic choice for gorgeous skin. Keep reading to know more about it.
Anti-inflammatory, anti-bacterial, and anti-oxidant turmeric properties make it a super amazing ingredient for gorgeous skin, says Mudgil, founder of Mudgil Dermatology in NY. Anti-oxidant curcumin present in it also works as an anti-inflammatory agent, which also lightens the skin adds Wong.
Turmeric has been reported to relieve skin conditions like eczema, acne, and psoriasis. Purified curcumin can be used in serum forms to treat these conditions.
Regular turmeric gives a pale look to your skin. Alternatively, Kasturi turmeric, non-staining, can clean, exfoliate, and enhance skin complexion. 
Oily Skin Mask For Gorgeous skin
Turmeric is good for oily skin as it regulates sebum production. To use it as a mask, task a pinch of turmeric powder and mix with 3 tablespoons of sandalwood powder and 3 tablespoons of orange juice. Apply this paste on your face and leave for 15-20 minutes. Rinse it off with lukewarm water. 
Also Read: How to cure hyperpigmentation with natural products?
For more Skincare news and Beauty latest updates please Like and Follow our Facebook Page and Instagram account…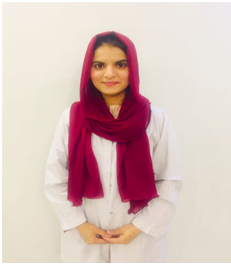 About the writer: Dr. Iqra Mubashar is a registered Pharmacist originally from Pakistan, Lahore. She has earned her pharmacy degree from the University of veterinary and animal sciences, Lahore. She has completed her internship as a trainee from Children hospital, Lahore. She has completed her research work in clinical pharmacy and pharmaceutics. She has worked as a healthcare documentation head in Al-Qasim enterprises, Islamabad. She has specialized in prescription handling, drug information, literature research, patient counseling, and pharmaceutical care plan. Her research work on coronavirus is under publication.