Frown lines are one of those aging signs that affect your personality, making you look more serious and strict. Let's try to know how you can get rid of them without botox injections.  
Frown lines, also called glabellar lines, usually form a shape of eleven numbers between our brows. It can develop over time because of the habitual contraction of muscles. It usually starts appearing in the late 20s or early 30s. Generally, it is due to aging because of the lack of elasticity of the skin. Genetics, sun exposure, repeated expressions, stress and smoking also play a role. You can address frown lines without injecting botox by bringing changes in your lifestyle, such as:
A healthy diet with lots of water intake.

Taking adequate sleep.

Using sunscreen regularly.

Incorporating anti-aging skincare products in your routine.

Properly moisturizing your skin.

Exfoliating your skin regularly.

Facial exercises and massage are also found helpful.    But keep in your mind that these changes will not miraculously remove frown lines. But they can help reduce the intensity and other aging processes. By following these tips, you can surely prevent frown lines. But for the complete removal of these lines, you need to opt for clinical treatments.
Also Read: Some Myths Associated with Using Face Rollers
For more Skincare news and Beauty latest updates please Like and Follow our Facebook Page and Instagram account…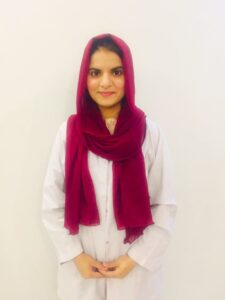 About the Author: Dr. Iqra Mubashar is a registered Pharmacist originally from Pakistan, Lahore. She has earned her pharmacy degree from the University of veterinary and animal sciences, Lahore. She has completed her internship as a trainee from Children hospital, Lahore. She has completed her research work in clinical pharmacy and pharmaceutics. She has worked as a healthcare documentation head in Al-Qasim enterprises, Islamabad. She has specialized in prescription handling, drugs information, literature research, patient counseling and pharmaceutical care plans. Her research work on coronavirus is under publication.