When it comes to a beauty regime, Vitamin C must be your first choice to add to your skincare. But, have you ever thought it can react with some skincare products. So, it must be used with caution. Stay with me to know how to use vitamin C with retinol and Hyaluronic acid.
With hyaluronic acid:
If you want to apply vitamin C serum with hyaluronic acid, apply vitamin C serum and make sure it is absorbed well. Then use a layer of hyaluronic acid serum or product containing hyaluronic acid.
With retinol
 If you use vitamin C and retinol together, it can make your skin extremely dry and irritated. So, these products must be used separately. Apply vitamin C serum in the morning as it helps to fight free radicals caused by sunlight. Choose to apply retinol at night to avoid irritation. Always apply moisturizer using retinol to avoid dryness on skin.
Always apply vitamin C serum before your moisturizer. But nowadays, antioxidants containing moisturizers are common in the market. Don't apply them after Vitamin C serum, says Dr. Angela Lamb, M.D., director of Westside Mount Sinai Dermatology Faculty Practice.
Also Read: Benefits of Epsom salt bath for Your Skin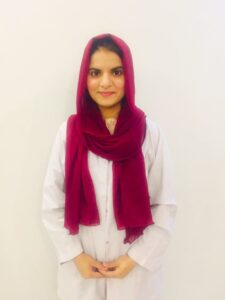 Dr. Iqra Mubashar is a registered Pharmacist originally from Pakistan, Lahore. She has earned her pharmacy degree from the University of veterinary and animal sciences, Lahore. She has completed her internship as a trainee from Children hospital, Lahore. She has completed her research work in clinical pharmacy and pharmaceutics. She has worked as a healthcare documentation head in Al-Qasim enterprises, Islamabad. She has specialized in prescription handling, drugs information, literature research, patient counseling and pharmaceutical care plans. Her research work on coronavirus is under publication.
For more Skincare news and Beauty latest updates please Like and Follow our Facebook Page and Instagram account…