Mulberry has many health benefits, but you will be amazed at how beneficial it is for our skin, particularly its leaves and extract for topical application. Keep reading to know the magical benefits of mulberry leaves. 
Mulberry is rich in vitamins and antioxidants. Its leaf powder can be used as a face mask and scrub to treat acne, tanning, and oil control. It is available in many skincare products. 
It is really good for hyperpigmentation, skin discoloration, dark spots, and blemishes. It slows down and prevents the growth of tyrosinase enzyme, which is responsible for melanin production. In this way, it treats already present hyperpigmentation and prevents future dark spots and blemishes. 
It strengthens the natural barrier of the skin and protects the skin from damage due to UV radiation. Antioxidant properties neutralize the free radicals and prevent fine lines and wrinkles from appearing, giving our skin a younger and fresh look. 
It soothes the irritated skin, unclogs pores and improves the skin texture by making the skin tone even. It moisturizes and nourishes the skin, giving it a brighter and glowing complexion. 
It is available in many skincare products, but you must consult your pharmacist before adding it to your daily regime. Before applying it to your skin, a patch test is a must.
Also Read: The Salicylic Acid: A beta Hydroxy Acid for Acne and Other Skin Concerns
For more Skincare news and Beauty latest updates please Like and Follow our Facebook Page and Instagram account…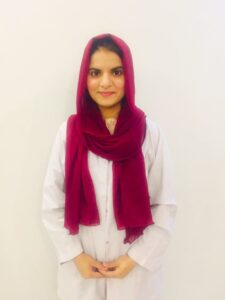 Dr. Iqra Mubashar is a registered Pharmacist originally from Pakistan, Lahore. She has earned her pharmacy degree from the University of veterinary and animal sciences, Lahore. She has completed her internship as a trainee from Children hospital, Lahore. She has completed her research work in clinical pharmacy and pharmaceutics. She has worked as a healthcare documentation head in Al-Qasim enterprises, Islamabad. She has specialized in prescription handling, drugs information, literature research, patient counseling and pharmaceutical care plans. Her research work on coronavirus is under publication.