No one likes chapped and dry lips. Even for applying a nice lipstick, healthy and soft lips are essential. But unfortunately, lips are often ignored in our skincare regime. Let's discuss some tips to help you get smooth and pink lips with little attention.  
Like your facial skin, lips also need exfoliation. You can choose natural lip scrubs too e.g., raw sugar, almond oil, coconut oil, etc. The best way is to apply a moisturizing lip balm before you go to bed and in the morning, gently exfoliate with a washcloth or a toothbrush to get rid of dead skin. This will also stimulate blood circulation and give you healthy and plump lips.
Berry based lip care products: 
Use lip scrubs and lip balms with berry-based ingredients because they are rich in antioxidants and vitamin C. These ingredients will nourish your lips and give you naturally pink lips.
Protect your lips from sun damage:
The skin over your lips is also sensitive to sun damage. These days lip balms are available with SPF. Always prefer such lip balms over ordinary ones.  
Take make-up off before you go to bed:
Even if there isn't any visible sign of make-up on your lips, gently wipe them with a make-up remover.
The key to getting naturally healthy lips is to drink enough water and try to stay hydrated.
Also Read: How to Stop Skin Peeling from Sunburn?
For more Skincare news and Beauty latest updates please Like and Follow our Facebook Page and Instagram account…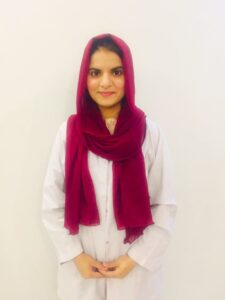 About the Author: Dr. Iqra Mubashar is a registered Pharmacist originally from Pakistan, Lahore. She has earned her pharmacy degree from the University of veterinary and animal sciences, Lahore. She has completed her internship as a trainee from Children hospital, Lahore. She has completed her research work in clinical pharmacy and pharmaceutics. She has worked as a healthcare documentation head in Al-Qasim enterprises, Islamabad. She has specialized in prescription handling, drugs information, literature research, patient counseling and pharmaceutical care plans. Her research work on coronavirus is under publication.