The skin around our eyes is very delicate and thinner than the rest of our skin. It is the first site of the body to start showing the signs of ageing. But vitamin C infused cream can help you fight them. Let's get into details. 
As we age, we experience several skin issues surrounding our eyes, like sagging, dark circles, puffiness, fine lines, etc. Though it is a natural process, our lifestyle and certain genetic factors also influence them. Taking proper care of health and opting for the right ingredients for care can help slow down this process. Vitamin C is one of the products that do wonders for skin, particularly the skin around the eyes.
Vitamin C is an antioxidant in nature, and it helps reduce dark circles.

It strengthens the delicate skin and decreases the visibility of blood vessels and ageing signs such as fine lines, crow's feet, etc.

It stimulates the production of collagen, thus prevents the skin from sagging and wrinkling.

Vitamin C also protects skin from UV damage. 
Vitamin C is considered as what coffee is to your eyes. It refreshes your skin, making them look more energized and youthful. Topical application of vitamin C by infused creams is the best way of delivering it at the required site. 
Also Read: DIY Overnight Coffee Mask for Glowing and Tightened Skin
For more Skincare news and Beauty latest updates please Like and Follow our Facebook Page and Instagram account…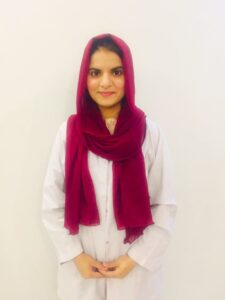 About the Author: Dr. Iqra Mubashar is a registered Pharmacist originally from Pakistan, Lahore. She has earned her pharmacy degree from the University of veterinary and animal sciences, Lahore. She has completed her internship as a trainee from Children hospital, Lahore. She has completed her research work in clinical pharmacy and pharmaceutics. She has worked as a healthcare documentation head in Al-Qasim enterprises, Islamabad. She has specialized in prescription handling, drugs information, literature research, patient counseling and pharmaceutical care plans. Her research work on coronavirus is under publication.