Are you looking for a facial treatment that gives you excellent results at a reasonable price? That's where a Gua Shah treatment comes in. It's one of the oldest Chinese practices that explain in English to "scraping the pain away." Keep reading to know what does Gua Sha does to your face.
1-    Relief tension
If you experience tension in your face muscles and neck, Gua Sha can help release the tension dramatically. Applying deep pressure with a Gua Sha stone at the targeted areas releases muscular tension and makes you feel relax.
2-   Help in face lifting
The unique edges of different Gua Sha stones work amazingly to lift and tighten the skin. Routine use can avert the aging signs such as sagging, dull and wrinkled skin. Since Gua Sha helps encourage circulation, the technique itself oxygenates and transports nutrients to the skin cells. The better blood flow resulting from Gua Sha contributes to a fresh and youthful appearance.
3-   Glowing skin
Gua Sha enhances circulation and increases lymphatic function, resulting in a naturally hydrated and shining appearance. The action of slightly scraping the Gua Sha tool across the skin helps in product penetration. Hence, the juicy nutrients go deeper into the layers of skin to feed us even more hydration
Also Read: Macadamia oil: Benefits for your skin and hair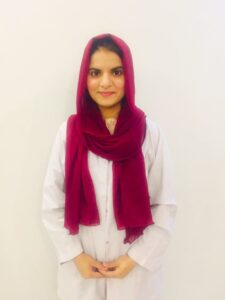 Dr. Iqra Mubashar is a registered Pharmacist originally from Pakistan, Lahore. She has earned her pharmacy degree from the University of veterinary and animal sciences, Lahore. She has completed her internship as a trainee from Children hospital, Lahore. She has completed her research work in clinical pharmacy and pharmaceutics. She has worked as a healthcare documentation head in Al-Qasim enterprises, Islamabad. She has specialized in prescription handling, drug information, literature research, patient counseling, and pharmaceutical care plans. Her research work on coronavirus is under publication.
For more Skincare news and Beauty latest updates please Like and Follow our Facebook Page and Instagram account…