Are you worried about acne and breakouts but don't want to use harsh products on your face? Don't worry; succinic acid is here to save you. Keep reading to know more about this fantastic skincare ingredient.                
Succinic acid is a naturally derived ingredient found in amber, sugarcane, and apple cider vinegar. Its natural antimicrobial and anti-inflammatory properties help the reconditioning of the skin and keep the bacteria and acne at bay. That's why it is ideal for oily and acne-prone skin types. 
It has antioxidant and anti-aging properties. It gently exfoliates the skin; that's why it is safe for all skin types, including sensitive skin. It reduces blemishes, peels dead skin cells, unclogs pores, and reduces skin oil levels. 
It hydrates the skin and gives it a soothing effect. It often comes with hyaluronic acid to give enhanced hydrating effects.     
Another amazing benefit of succinic acid is that it works quickly, especially for acne. It is mostly found in anti-aging and anti-acne skin care products. It is also available in skin serums, creams, face washes, and cleansers.            

Note:
Although it's not a harsh chemical and feels gentle on the skin but it is advised to consult your pharmacist and do a patch test before applying anything on your face.
Also Read: How to prevent ingrown hairs
For more Skincare news and Beauty latest updates please Like and Follow our Facebook Page and Instagram account…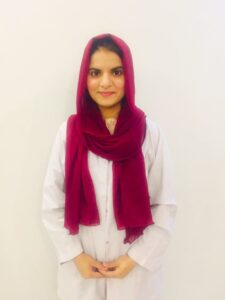 About the writer: Dr. Iqra Mubashar is a registered Pharmacist originally from Pakistan, Lahore. She has earned her pharmacy degree from the University of veterinary and animal sciences, Lahore. She has completed her internship as a trainee from Children hospital, Lahore. She has completed her research work in clinical pharmacy and pharmaceutics. She has worked as a healthcare documentation head in Al-Qasim enterprises, Islamabad. She has specialized in prescription handling, drug information, literature research, patient counseling, and pharmaceutical care plan. Her research work on coronavirus is under publication.