Everyone loves to have strong and long hair. Though there are various products and oils available for healthy growth. If you can't afford expensive treatment, then do not worry, you can still make your hair beautiful and shiny using your kitchen items. Rice water is an amazing choice for maintaining your shiny hair. Keep reading to know how rice water is useful for healthy and lustrous hair.
1- Strengthen hair
Rice water contains a high level of starch which helps in strengthening hair. Applying rice water on the scalp resulted in thicker and strong hair
2-Enhance scalp health
It contains vitamins and amino acids that help in improving scalp health. Applying rice water on the scalp gives you a healthy scalp and hair, says Karen Flowers, licensed cosmetologist, a certified trichologist, and founder of Curl House.
3-Boosts hair shine
Split ends make the hair look dull and rough. It adds moisture to the hair and minimizes the appearance of split ends.
4- Improves hair growth
It is rich in antioxidants that are vital for hair follicle growth and repairing damaged hair. Applying rice water in hair follicles helps in hair growth, making it  less susceptible to breakage.
Note: Rice water is so mild that it is safe for all hair types, including colored hair.
Also Read: Tips on How You Must Choose Your Moisturizer According to Your Skin Type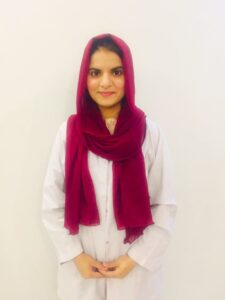 Dr. Iqra Mubashar is a registered Pharmacist originally from Pakistan, Lahore. She has earned her pharmacy degree from the University of veterinary and animal sciences, Lahore. She has completed her internship as a trainee from Children hospital, Lahore. She has completed her research work in clinical pharmacy and pharmaceutics. She has worked as a healthcare documentation head in Al-Qasim enterprises, Islamabad. She has specialized in prescription handling, drugs information, literature research, patient counseling and pharmaceutical care plans. Her research work on coronavirus is under publication.
For more Skincare news and Beauty latest updates please Like and Follow our Facebook Page and Instagram account…