Blackheads and whiteheads are the most embarrassing form of acne. People with oily skin are more prone to them than dry skin. Are you trying hard to pinch out your blackhead or whiteheads daily? Stay with me to know about the ingredients to get rid of blackheads and whiteheads. whitehead 
Salicylic acid 
Salicylic acid is the preferred choice to remove blackheads and whiteheads. It absorbs excess oil and removes dead skin cells. Using a good salicylic acid cleanser helps to remove dirt, oil, and makeup from your face. Start using a salicylic acid-containing cleanser once a day. Once your skin gets used to it, start using it twice a day.
Exfoliate with AHAs and BHAs
Regular exfoliation helps in removing dead skin cells and prevents the formation of blackheads and whiteheads. It also helps to unclog the pores. Instead of looking for a harsh scrub, go for alpha-hydro acids like glycolic acid and beta hydroxy acids like salicylic acid. These work amazing by removing the upper layer of skin, resulting in cleaning pores and clearer skin.
Topical retinoids
whitehead
Retinoids work best against stubborn blackheads and whiteheads by unclogging the pores. It makes other products more effective by enhancing their absorption into hair follicles. If you have dry skin avoid using a retinoid, says Britt Kimmins.
Also Read: Using Aloe Vera as Skin Care Remedy
For more Skincare news and Beauty latest updates please Like and Follow our Facebook Page and Instagram account…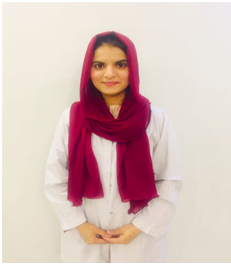 About the writer: Dr. Iqra Mubashar is a registered Pharmacist originally from Pakistan, Lahore. She has earned her pharmacy degree from the University of veterinary and animal sciences, Lahore. She has completed her internship as a trainee from Children hospital, Lahore. She has completed her research work in clinical pharmacy and pharmaceutics. She has worked as a healthcare documentation head in Al-Qasim enterprises, Islamabad. She has specialized in prescription handling, drug information, literature research, patient counseling, and pharmaceutical care plan. Her research work on coronavirus is under publication.