When it comes to almond oil, we can ignore its importance in the beauty industry. Our ancestors had used it to enhance their beauty. Due to its mild nature and hypo-allergic property, almond oil is an excellent option for sensitive skin too. Let's talk about how oil can be used for radiant and glowing skin.
Reduces Dark Circles:
Almond oil is great for reducing dark circles. It has skin lightening properties which work best for reducing dark circles. For reducing dark circles, take a small amount of almond oil and gently apply it under your eyes before sleeping.
Anti-aging effect of Almond Oil:
Another fantastic property of almond oil is its anti-aging effect. It is rich in vitamin E, which is a powerful antioxidant. It works best when applied at body temperature. Using almond oil daily helps to combat skin to UV exposure and stress.
Act as a Cleanser and Prevent Acne flare-ups:
Due to its light texture, almond oil penetrates deep into the skin and removes dead cells. These dead cells play an essential role in the formation of acne. Besides this, almond oil is rich in vitamin A, which diminishes acne outbreaks.

When not to use Almond Oil:
If your skin is allergic to nuts or a patch test shows redness on your skin, then it's suitable not to use it. People with oily skin should use it in low quantities to avoid a favorable environment for acne.
Also Read: Cure your red skin with green tea
For more Skincare news and Beauty latest updates please Like and Follow our Facebook Page and Instagram account…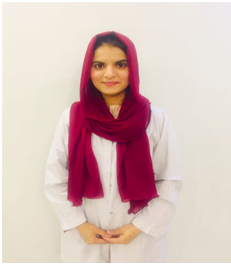 About the writer: Dr. Iqra Mubashar is a registered Pharmacist originally from Pakistan, Lahore. She has earned her pharmacy degree from the University of veterinary and animal sciences, Lahore. She has completed her internship as a trainee from Children hospital, Lahore. She has completed her research work in clinical pharmacy and pharmaceutics. She has worked as a healthcare documentation head in Al-Qasim enterprises, Islamabad. She has specialized in prescription handling, drug information, literature research, patient counseling, and pharmaceutical care plan. Her research work on coronavirus is under publication.