Mustard oil is obtained from the seeds of mustard plants. It is known for its amazing benefits for the skin due to fatty acids, antioxidants, and minerals in it. Keep reading to know more about its fantastic benefits for skin and hair.
Vitamin B present in mustard oil makes it an effective ingredient to enhance skin health. It also reduces the aging sign by delaying the appearance of wrinkles. Mix a small quantity of mustard oil and coconut oil and massage it to your skin before going to bed. Regularly doing this make your skin look healthier.
It also acts as a natural sunscreen. Vitamin E present in it helps to fight UV exposure and environmental pollutants. Massaging a small quantity of it before going outside can protect you from sun rays.
The presence of protein and omega 3 fatty acids in mustard oil nourishes hair. It enhances hair growth and prevents hair loss. Another amazing benefit of mustard oil is it prevents premature hair greying.
Anti-bacterial and anti-fungal properties of mustard oil help to get rid of itching scalp and dandruff issues. Mix equal quantities of mustard oil and coconut oil and massage it on the scalp helps few times a week resolve the issues of dandruff.
Also Read: The Acids which are beneficial for your skin.
For more Skincare news and Beauty latest updates please Like and Follow our Facebook Page and Instagram account…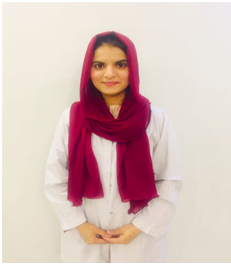 About the writer: Dr. Iqra Mubashar is a registered Pharmacist originally from Pakistan, Lahore. She has earned her pharmacy degree from the University of veterinary and animal sciences, Lahore. She has completed her internship as a trainee from Children hospital, Lahore. She has completed her research work in clinical pharmacy and pharmaceutics. She has worked as a healthcare documentation head in Al-Qasim enterprises, Islamabad. She has specialized in prescription handling, drug information, literature research, patient counseling, and pharmaceutical care plan. Her research work on coronavirus is under publication.