When you think of treating rosacea, azelaic acid might not be the first ingredient that comes to your mind. It is a naturally occurring acid derived from grains and cereals. Due to its mildness and variability, dermatologists usually recommend its use for sensitive skin types. Keep reading to know more about its effectiveness for rosacea-prone skin.
Azelaic acid helps to treat secondary infection due to rosacea. As skin becomes sensitive in rosacea, that is why it's a less irritating option for rosacea.
Azelaic acid is a safe option for rosacea during pregnancy, says Fusco. But it's good to consult your gynecologist before using it in pregnancy.
It penetrates deep into the skin and removes dead cells from skin. These dead cells clog pores which leads to acne.
How to use it?
Apply a pea-size OTC or prescription product on a clean and dry area twice a day. If you have sensitive skin, apply it once daily. To make azelaic acid more effective, apply alpha-hydroxy acids (glycolic or lactic acid) or beta-hydroxy acids (salicylic acid) or retinol before applying azelaic acids. Then moisturize your face to keep hydrated. Always remember to use sunscreen during the day time.
Also Read: At-Home Laser Hair Removal: Does It Work?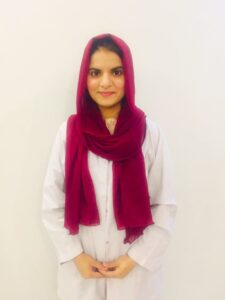 Dr. Iqra Mubashar is a registered Pharmacist originally from Pakistan, Lahore. She has earned her pharmacy degree from the University of veterinary and animal sciences, Lahore. She has completed her internship as a trainee from Children hospital, Lahore. She has completed her research work in clinical pharmacy and pharmaceutics. She has worked as a healthcare documentation head in Al-Qasim enterprises, Islamabad. She has specialized in prescription handling, drugs information, literature research, patient counseling and pharmaceutical care plans. Her research work on coronavirus is under publication.
For more Skincare news and Beauty latest updates please Like and Follow our Facebook Page and Instagram account…