If you're always conscious of the luster of nail paint, but you want your nails to wear to look shiny then, I'll here to tell you how to maintain polished nails without any nail paint.
1. Rose Water For Shiny Nails
Did you know that if you spray rose water to your nails every day, they will look more glossy? So you don't need to rush for a weekly manicure because you will attain a shiny look without any nail paint by consistently using rose water. 
2. Petroleum Jelly For Shiny Nails
Another common way to make your nails look polished is to apply petroleum jelly to your nails, particularly after a bath when your pores are open, as it helps keep your nails from losing their natural moisture. 
3. Rub your nails with lemon slices
If you regularly apply nail paint, you're more inclined to have pale nails. To make your nails stay shiny without any nail paint, regularly rub lemon slices on them. You can also try this excellent homemade mixture for polished nails; mix one tbs. of baking soda, 1 tsp of lemon juice, and 1 tsp of olive oil until a thick paste is formed, and then rub it on your nails. After 10-15 minutes, wash it with water. It will make your nails shiny, healthy, and strong.
Also Read: How to Maintain Your Skin during Menstruation?
For more Skincare news and Beauty latest updates please Like and Follow our Facebook Page and Instagram account…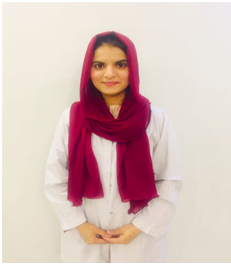 About the writer: Dr. Iqra Mubashar is a registered Pharmacist originally from Pakistan, Lahore. She has earned her pharmacy degree from the University of veterinary and animal sciences, Lahore. She has completed her internship as a trainee from Children hospital, Lahore. She has completed her research work in clinical pharmacy and pharmaceutics. She has worked as a healthcare documentation head in Al-Qasim enterprises, Islamabad. She has specialized in prescription handling, drug information, literature research, patient counseling, and pharmaceutical care plan. Her research work on coronavirus is under publication.