Blackheads are the stubborn and most annoying skin condition. They develop when sebum and dead cells combine and clog your skin. Sometimes, cleaning and exfoliation do not work blackheads on your own. Then, how to get rid of these blackheads? Keep reading to know about this solution.
If you have a mild type of blackheads, go for a salicylic acid type of scrubs, explains Joshua Zeichner, a board-certified dermatologist in New York. They help to remove excess oil and exfoliate dead cells from the skin.
But, if your blackheads are stubborn, go for retinol creams. Retinol treats the blackheads by reducing dead cells' sickness with the skin and enhancing skin regeneration, says Marchbein. If your skin is sensitive, start with over-the-counter retinol products.
Suppose your case is and has tired of using salicylic acid and retinol for treating blackhead. Seek dermatological advice for oral medication to help clear up blackheads. Some oral medicines like spironolactone reduce sebum production and help in treating blackheads.
Lastly, don't forget to moisturize your skin even if you have acne-prone skin. Treating blackheads with the products mentioned above removes excess oil and can cause dryness on your face.
Also Read: How to fight acne on the back, also known as "backne"
For more Skincare news and Beauty latest updates please Like and Follow our Facebook Page and Instagram account…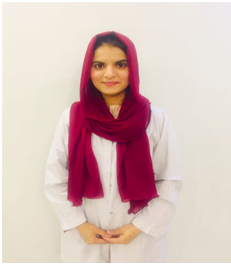 About the writer: Dr. Iqra Mubashar is a registered Pharmacist originally from Pakistan, Lahore. She has earned her pharmacy degree from the University of veterinary and animal sciences, Lahore. She has completed her internship as a trainee from Children hospital, Lahore. She has completed her research work in clinical pharmacy and pharmaceutics. She has worked as a healthcare documentation head in Al-Qasim enterprises, Islamabad. She has specialized in prescription handling, drug information, literature research, patient counseling, and pharmaceutical care plan. Her research work on coronavirus is under publication.