Not only prolonged exposure to sunlight can cause damage to your skin. The light projected by your mobile devices, laptops, and tablets is also responsible for skin aging. 
Numerous studies have recently been published, and they mention that skin damage is caused by this type of light, which includes blemishes, dark circles under the eyes, wrinkles, dehydration, and poor oxygenation of the area. All this must be taken into account because we live in a digital age, especially during the pandemic era where most of the work went online, forcing you to spend hours in front of your computer. 
In addition to skin aging, this type of light can cause vision problems and headaches, so it is essential to know how to protect ourselves against this light.
Here are some recommendations to avoid damage caused by blue light:
Turn on the blue light filter on every electronic device you use.

Use broad-spectrum sunscreen even when you are indoors. 

Limit your time in front of the screen. 

Don't forget to apply moisturizer to your face.

Use glasses with a blue light filter, apart from protecting you from blue light, it improves the contrast of images and prevents visual fatigue.
Also Read: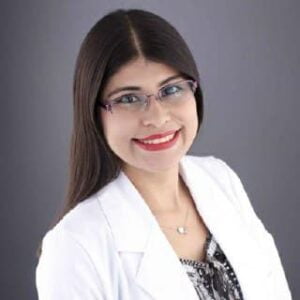 Dr. Angelica Parra is a Licensed Medical Doctor from Venezuela and is currently taking a Master's degree in Dermatology.  She specialized in Aesthetic Medicine and completed Advanced Training in Non-surgical Facial Rejuvenation in Miami, Florida. She has specialized in applying Botox, dermal fillers, skin tightening treatments, and since then, she has worked on cruise ships as an Aesthetic Doctor.
For more Skincare news and Beauty latest updates please Like and Follow our Facebook Page and Instagram account…