Contouring and highlighting are extensively popular these days. If you are still new to it, then keep reading to learn how you can enhance your features.
It involves a darker matte for contouring and a lighter shimmer for highlighting. It means more than just blending and highlighting as it creates the dimensions of your face and makes it appear more defined and structural. Also, highlighting adds a glow with natural hits. 
Before opting for contouring, determination of your face shape is essential as it varies with facial shapes. Here are some basic tips with the pictorial guide, depending on your face shape:
Round: Focus on temples, sides of jawline, and cheekbones. Create dimensions in such a way to make it look oval and slimmer. 
Square: Focus on sharp angles and soften them by contouring the sides of the forehead and under cheekbones. Highlight forehead, nose, and chin. 
Long: Add more dimensions by focusing on the forehead and chin, contour at forehead and sides of the jaw. 
Heart: Contour the sides of your forehead and temples to create a balance out your facial shape. 
Triangle: Highlight temples and under-eye but contour jawline to create proportion in shape. 
Oval: Make your face more prominent by contouring below the cheekbones and highlighting the nose and under-eye area. 
Contouring and highlighting are so trendy that it is part of the daily makeup routine for most women. It can create a huge difference in the appearance of your face.
Also Read: These are the signs that indicate you suffer from sensitive skin
For more Skincare news and Beauty latest updates please Like and Follow our Facebook Page and Instagram account…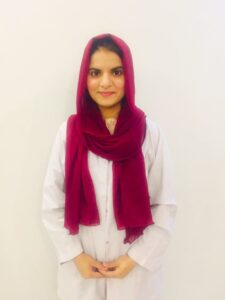 Dr. Iqra Mubashar is a registered Pharmacist originally from Pakistan, Lahore. She has earned her pharmacy degree from the University of veterinary and animal sciences, Lahore. She has completed her internship as a trainee from Children hospital, Lahore. She has completed her research work in clinical pharmacy and pharmaceutics. She has worked as a healthcare documentation head in Al-Qasim enterprises, Islamabad. She has specialized in prescription handling, drugs information, literature research, patient counseling and pharmaceutical care plans. Her research work on coronavirus is under publication.