In summers, heat rash is quite common. It can develop in children as well as adults. While it is really irritating, you can deal with it easily. Here is a complete guide on heat rash.
Heat rash is also known as prickly heat or miliaria rubra. It is an itchy rash with raised spots or bumps, with a stinging and prickling sensation. They develop because of the clogged sweat glands. This results in the entrapment of sweat under the skin, leading to itchy bumps.
Heat rash can occur anywhere, but most commonly on the face, neck, back, chest, elbows, thighs, etc. It is worsened by tight clothing and rubbing of the skin. It occurs when a person sweats a lot due to hot and humid weather. Here are some tips to prevent and treat heat rash:
Avoid working in excessive heat and humidity.
Wear loose clothes.
Keep your skin dry.
If you get a heat rash, taking a cold shower helps relieve the symptoms.
Apply calamine lotion, and don't scratch the bumps.
Avoid perfumed toiletries.
Usually, mild heat rash goes on its own after a few days. If it persists, you can consult your local pharmacist or a GP to help you with the symptoms.
Also Read: Dos and Don'ts for a Healthy and Glowing Skin
For more Skincare news and Beauty latest updates please Like and Follow our Facebook Page and Instagram account…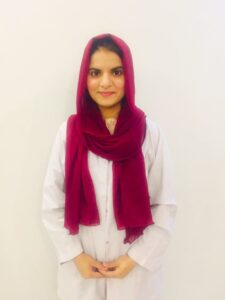 Dr. Iqra Mubashar is a registered Pharmacist originally from Pakistan, Lahore. She has earned her pharmacy degree from the University of veterinary and animal sciences, Lahore. She has completed her internship as a trainee from Children hospital, Lahore. She has completed her research work in clinical pharmacy and pharmaceutics. She has worked as a healthcare documentation head in Al-Qasim enterprises, Islamabad. She has specialized in prescription handling, drugs information, literature research, patient counseling and pharmaceutical care plans. Her research work on coronavirus is under publication.