Everybody knows that bananas are perfectly wrapped delicious and healthy fruit but do you know that wrapping peel is more than just amazing for your skin? Keep reading to learn about it.  
Banana face masks are pretty famous for skin, but their peel isn't any less in comparison. Banana peel is loaded with phenolics. It contains many bioactive compounds such as carotenoids and polyphenols, etc. It is also known for its anti-inflammatory properties. You don't need any fancy ingredients for using a banana peel for skincare. A raw banana peel is a good to go.  
Following are some of the easiest hacks of using the raw banana peel for your skin:
Gently rub the banana peel on your clean face.
Benefits: It will help to fade your scars, reduces wrinkles while giving a moisturized skin with an improved complexion. It is good for getting even-toned skin.
Put fresh banana peel on your eyes.
Benefits: Putting raw banana peel on your eyes will help de-puff the eyes. It also helps relieve the tiredness.
Use banana peel for relieving psoriasis.
Benefits: Banana peel is good for moisturizing the psoriatic skin and relieves the itch. 
Also Read: What Are the Skin Benefits of Thyme Oil?
For more Skincare news and Beauty latest updates please Like and Follow our Facebook Page and Instagram account…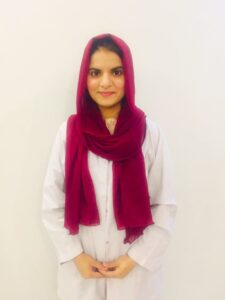 About the Author: Dr. Iqra Mubashar is a registered Pharmacist originally from Pakistan, Lahore. She has earned her pharmacy degree from the University of veterinary and animal sciences, Lahore. She has completed her internship as a trainee from Children hospital, Lahore. She has completed her research work in clinical pharmacy and pharmaceutics. She has worked as a healthcare documentation head in Al-Qasim enterprises, Islamabad. She has specialized in prescription handling, drugs information, literature research, patient counseling and pharmaceutical care plans. Her research work on coronavirus is under publication.