Once you start gaining weight during pregnancy, you will notice how your skin starts stretching, and you will see those unwanted stretch marks caused by the rupture of the collagen and elastin fibers on your skin.
During the second half of the pregnancy, you can find red and white stretch marks, especially in areas like the abdomen, breast, and tights; here, you will find some recommendations to prevent and eliminate these stretch marks during pregnancy.
Maintain deep skin hydration: Apply moisturizer twice a day, look for ingredients like Centella Asiatica and almond oil, and vitamin E.
Massage while applying your skin products: Apply your products doing circular movements, this way, not only can they penetrate deeper, but you will increase the circulation in the area.
Maintain a healthy diet: Only choose a balanced diet and drink enough water to avoid skin dehydration.
Avoid prolonged sun exposure: Dry and tan skin is prone to develop stretch marks; if you plan to sunbathe, don't forget your sunscreen and moisturizer.
Some aesthetic treatments like laser or peeling can improve them. However, they won't disappear completely, but they are all contraindicated during pregnancy or breastfeeding.
Also Read: Do you really need to switch to a sulfate free shampoo?
For more Skincare news and Beauty latest updates please Like and Follow our Facebook Page and Instagram account…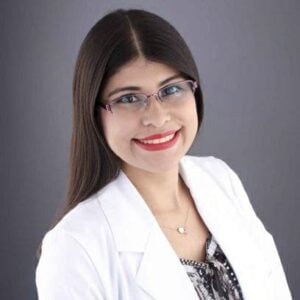 Dr. Angelica Parra is a Licensed Medical Doctor from Venezuela and is currently taking a Master's degree in Dermatology.  She specialized in Aesthetic Medicine and completed Advanced Training in Non-surgical Facial Rejuvenation in Miami, Florida. She has specialized in applying Botox, dermal fillers, skin tightening treatments, and since then, she has worked on cruise ships as an Aesthetic Doctor.